SD-70 PRO-PAC™ Vibratory Soil Compactor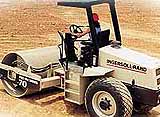 The Ingersoll-Rand SD-70 PRO-PAC Series features a Cummins turbocharged 4 cylinder diesel engine. The 95 hp (71 kW) liquid-cooled engine provides greater power and torque to handle the increased demands of projects at higher elevations, improved gradeability and propulsion through highly cohesive soils. The Iightweight, single-piece engine enclosure is hinged at the rear to allow unobstructed access to the engine, radiator, battery, filters and daily maintenance checkpoints.
Versatility value and optimum performance result when the smooth drum SD-70D is equipped with Ingersoll-Rand's unique, patented, optional bolt-on padfoot drumshell kit.
The SD-70 PRO-PAC operators station is designed for comfort and safety. A fully adjustable, suspension-mounted seat is standard. Four independent vibration dampeners isolate the operators platform from machine vibration. Controls and gauges are ergonomically positioned.
A variable frequency control is provided to adjust vibration to the natural resonant frequency of the material being compacted within a range of 1100 to 1900 VPM (18 to 32 Hz). Centrifugal force up to 30,450 lb. (135 kN) quickly compacts even the most difficult-to-compact materials.

--------------------------------------------------------------------------------

Standard Features
Adjustable scraper
Dual beam halogen front light
Gauges and instrumentation
Heavy duty drum drive
No-Spin®: differential axle
Oil-bath eccentric lubrication
Powerful 4 cylinder turbocharged diesel engine
ROPS/FOPS with seat belt
Shock-mounted operator platform
Variable vibration frequency
Options

Air precleaner
EROPS cab with A/C and heat
Heavy duty drum drive for SD-70D
Pad foot drum shell kit for SD-70D






Rearwork lights
Strike-off blade
Traction valve
SD-70 PRO-PAC SPECIFICATIONS
Machine Weight (w/ROPS/FOPS)
---
| | |
| --- | --- |
| Operating Weight (CECE) | 14,035 lb. (6365 kg) |
| Static weight at drum | 7,440 lb. (3375 kg) |
| Static weight at tires | 6,595 lb. (2990 kg) |
---
---
| | |
| --- | --- |
| Overall Length | 196 in. (4975 mm) |
| Overall Width | 75 in. (1900 mm) |
| Overall Height (top of steering whl.) | 83 in. (2110 mm) |
| Overall Height (top of ROPS/FOPS) | 112 in. (2855 mm) |
| Wheelbase | 115 in. (2910 mm) |
| Curb Clearance | 15.5 in. (390 mm) |
| Outside Turning Radius (drum edge) | 194 in. (4925 mm) |
---
---
| | |
| --- | --- |
| Drum Width | 66 in. (1675 mm) |
| Drum Diameter | 48 in. (1220 mm) |
| Drum Diameter Over Pads | - - |
| Shell Thickness | .75 in. (19 mm) |
| Number of Padfeet | - - |
| Padfoot Height | - - |
| Padfoot Tip Area | - - |
---
---
Frequency

1,100 - 1,900 VPM
(18 - 32 Hz)

Centrifugal Force

30,450 lb. (135 kN)

Nominal Amplitude

0.071 in. (1.80 mm)
---
---
| | |
| --- | --- |
| Type System | Hydrostatic, two-speed motor on planetary axle / No-Spin ® differential |
| Tire Size | 14.9 x 24 - 6 PR R-3 |
| Travel Speed - high | 0 - 9.3 mph (0 - 14.9 km/hr) |
| Travel Speed - low | 0 - 5.1 mph (0 - 8.3 km/hr) |
---
---
Make & Model

Cummins B 3.9 -C

Rated Power @ 2200 rpm

95 hp (70.8 kW)

Electrical System

12-volt DC, negative ground
65A Alt., 800CCA Battery
---
---
| | |
| --- | --- |
| Service | dynamic hydrostatic through propulsion |
| Parking/Secondary | Spring-Applied, Hydraulically-Released on rear axle |
---
Miscellaneous Specifications
---
| | |
| --- | --- |
| Articulation angle | ±40° |
| Oscillation angle | ±17° |
| Fuel capacity | 45 gal. (170 liters) |
| Hydraulic oil capacity | 32 gal. (121 liters) |
| Gradeability (theoretical) | 58% |
SD-70F PRO-PAC SPECIFICATIONS
Machine Weight (w/ROPS/FOPS)
---
| | |
| --- | --- |
| Operating Weight (CECE) | 15,475 lb. (7020 kg) |
| Static weight at drum | 8,875 lb. (4025 kg) |
| Static weight at tires | 6,600 lb. (2995 kg) |
---
---
| | |
| --- | --- |
| Overall Length | 196 in. (4975 mm) |
| Overall Width | 75 in. (1900 mm) |
| Overall Height (top of steering whl.) | 85 in. (2150 mm) |
| Overall Height (top of ROPS/FOPS) | 113 in. (2870 mm) |
| Wheelbase | 115 in. (2910 mm) |
| Curb Clearance | 17.5 in. (440 mm) |
| Outside Turning Radius (1) | 194 in. (4925 mm) |
---
---
| | |
| --- | --- |
| Drum Width | 66 in. (1675 mm) |
| Drum Diameter | 48 in. (1220 mm) |
| Drum Diameter Over Pads | - - |
| Shell Thickness | .75 in. (19 mm) |
| Number of Padfeet | 84 |
| Padfoot Height | 3 in. (76 mm) |
| Padfoot Tip Area | 21sq. in. (135 sq. cm) |
---
---
Frequency

1,100 - 1,900 VPM
(18 - 32 Hz)

Centrifugal Force

30,450 lb. (135 kN)

Nominal Amplitude

0.060 in. (1.53 mm)
---
---
| | |
| --- | --- |
| Type System | Hydrostatic, two-speed motor on planetary axle / No-Spin ® differential |
| Tire Size | 14.9 x 24 - 6 PR R-1 |
| Travel Speed - high | 0 - 6.1 mph (0 - 9.8 km/hr) |
| Travel Speed - low | 0 - 4.0 mph (0 - 6.5 km/hr) |
---
---
| | |
| --- | --- |
| Make & Model | Cummins B3.9-C |
| Rated Power @ 2100 rpm | 95 hp (70.8 kW) |
| Electrical System | 12-volt DC, negative ground; 65A Alt., 800CCA Battery |
---
---
| | |
| --- | --- |
| Service | dynamic hydrostatic through propulsion |
| Parking/Secondary | Spring-Applied, Hydraulically-Released on rear axle |
---
Miscellaneous Specifications
---
| | |
| --- | --- |
| Articulation angle | ±40° |
| Oscillation angle | ±17° |
| Fuel capacity | 45 gal. (170 liters) |
| Hydraulic oil capacity | 32 gal. (121 liters) |
| Gradeability (theoretical) | 61% |