SD-40 Vibratory Soil Compactor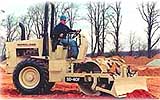 The SD-40 series single-drum, vibratory soil compactors are highly maneuverable, compact units that offer the highest performance in their class. The SD-40D smooth drum model is designed for compaction of granular, non-cohesive soils while the SD-40F padfoot model provides efficient compaction of cohesive soils. Each model offers many benefits including a powerful, fuel efficient diesel engine, a high torque propulsion system, high grade capability, excellent visibility to the work area, ease of serviceability and safe, comfortable operation.
Productivity

The SD-40D and SD-40F generate 16,000 Ibs. (71.2 kN) of centrifugal force. Combined with maximum amplitude and heavy drum weight, this force enables the operator to reach the required density in fewer passes. Productivity is increased and overall costs are reduced.
Gradeability

Superior gradeability is achieved through high-torque propulsion components, proper balance of drum-to-tractor weight and high engine horsepower. The SD-40 series utilizes a direct hydrostatic wheel drive with full-time traction valve. (Unit shown with optional ROPS/FOPS and diamond tread tires)
Versatility

The SD-40D, with its standard smooth drum, is suited for compaction of granular soils. By installing an optional, bolt-on padfoot shell conversion kit, this unit can also be used to compact cohesive soils. An optional fill-leveling blade is also available for the SD-40F or bolt-on shell equipped unit.


SD-40 Specifications
Machine Weight
---
| | |
| --- | --- |
| Operating Weight | 9,885 lb. (4485 kg) |
| Static weight at drum | 5,080 lb. (2305 kg) |
| Static weight at tires | 4,805 lb. (2180 kg) |
| Shipping Weight | 9,535 lb. (4325 kg) |
---
---
| | |
| --- | --- |
| Overall Length | 157 in. (3995 mm) |
| Overall Width | 61 in. (1535 mm) |
| Overall Height (top of steering whl.) | 78 in. (1980 mm) |
| Overall Height (top of ROPS) | 115 in. (2915 mm) |
| Wheelbase | 95 in. (2415 mm) |
| Ground Clearance | 13.4 in. (340 mm) |
| Outside Turning Radius (1) | 158 in. (4015 mm) |
---
---
| | |
| --- | --- |
| Drum Width | 54 in. (1370 mm) |
| Drum Diameter | 38 in. (965 mm) |
| Drum Diameter Over Pads | -- |
| Shell Thickness (nominal) | .75 in. (19 mm) |
| Number of Padfeet | -- |
| Padfoot Height | -- |
| Padfoot Tip Area | -- |
---
---
| | |
| --- | --- |
| Frequency - standard | 1,800 vpm (30 Hz) |
| Centrifugal Force | 16,000 lb. (71.2 kN) |
| Nominal Amplitude | .068 in. (1.72 mm) |
---
---
| | |
| --- | --- |
| Make & Model | John Deere 4039D |
| Rated Power @ 2300 rpm | 80 hp (60 kW) |
| Electrical System | 12-volt DC, negative ground; 95A alternator; 900CCA battery |
---
---
| | |
| --- | --- |
| Type System | Hydrostatic |
| Tire size | 12.4 x 24-4PR RI |
| Speed - forward / reverse | 0-4.9 mph (0-7.9 km/hr) |
---
---
| | |
| --- | --- |
| Service | Dynamic hydrostatic through propulsion system |
| Parking/Secondary | Spring-Applied, Hydraulically Released |
---
Miscellaneous Specifications
---
| | |
| --- | --- |
| Articulation angle | +/-40° |
| Oscillation angle | +/-10° |
| Fuel capacity | 27 gal. (102 liters) |
| Hydraulic oil capacity | 29 gal. (110 liters) |
| Gradeability (theoretical) | 56% |
Options:

Air precleaner
Strike-off blade.
Fuel level gauge.




Front and rear work lights
Padfoot drum shell kit (SD-40D only).
Tires, diamond tread